healthy living doesn't have to include high expensive fitness costs
Why You're Paying So Much to Exercise
Millennials are turning the fitness industry upside down.
On a frigid Sunday this month, Rianka Dorsainvil, a 29-year-old financial planner outside Washington, D.C., found herself running up a steep, snowy hill wearing a 20-pound vest and dragging a 215-pound man behind her.
She was paying for the privilege. The man harnessed to her was her personal trainer, who runs a studio out of his home and micromanages not just Dorsainvil's workouts but her meals, too. She calls him the "mad scientist."
"It's great to have an expert pushing you in the right direction," she said.
A growing segment of the U.S. population is making a significant sacrifice for physical fitness, and not just in sore muscles and pre-dawn wake-ups. More and more people are paying hundreds of dollars a month, or thousands a year, for personal workouts, special classes, and ever more luxurious gyms.
Dorsainvil and her husband, a technology consultant, spend about 10 percent of their monthly budget getting fit, she figures. That includes training, memberships to a gym where she starts her day at 4:30 a.m., and the bulked-up grocery bills, including supplements, that fuel all that exercise.
By contrast, the average American spends a minuscule amount on getting in shape. Almost one-fifth of Americans are health club members, and the average U.S. club dues are $54 a month, or 1.2 percent of median household income, according to the latest data from the International Health, Racquet & Sportsclub Association, or Ihrsa, the fitness industry trade group.
Even if you stick with a regular gym, though, your dues have probably been going up. Traditional health clubs held off on price increases in the years after the recession but are now feeling squeezed by rising costs and new competition robbing them of longtime members.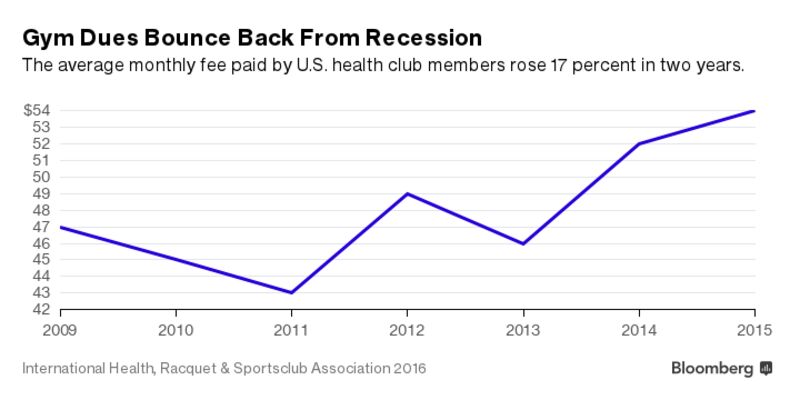 Thousands of boutique gyms have opened, each with a niche. Studios feature one-on-one training and group classes in CrossFit, cycling and spinning, kickboxing, barre, boot camp training, yoga, pilates, martial arts, high-intensity interval training (HIIT), indoor rock climbing, and countless others hoping to be the next fitness fad
They aren't cheap. SoulCycle, the popular cycling studio brand, costs $34 a class, or a discounted $850 for 30 classes, in New York. Go three times a week for a year and that's at least $4,420.
Luxury gyms are also seeing brisk business. Equinox opened 10 new clubs last year, bringing its total to 86. In New York, where a third of Equinox clubs are located, monthly memberships can start above $200 a month.
Many of the most enthusiastic exercisers are millennials, a generation that would appear least able to cover the extra costs. Weighed down by student debt and living in cities with skyrocketing rents, young urban dwellers still shell out $20 to $40 for an hourlong class and $50 to $100 or more for a personal training session.
One way they save money is disloyalty. Ihrsa estimates that 86 percent of patrons of studio gyms also visit or are members of other gyms. You could mix your SoulCycle with some equally pricey kickboxing or CrossFit, but there are also many new cheaper options. Even as Dorsainvil pays up for a trainer, her main gym costs her just $10 a month.
Hers is one of a wave of budget gyms, costing $20 or less a month, that have swept across the U.S. since the recession. The idea is to offer exercise equipment without extras. Planet Fitness, for example, has 1,200 locations in 47 states and has plans to grow to 4,000 clubs in the U.S.
While midmarket clubs barely gained members, the number of budget club members grew 69 percent in 2015 alone, Ihrsa estimated last year. Much of this growth is driven by franchising, a trend that has brought outside money to the fitness industry. Entrepreneurs who might have opened a sandwich shop are opening a franchise of Planet Fitness or Blink Fitness, which is a budget brand owned by Equinox.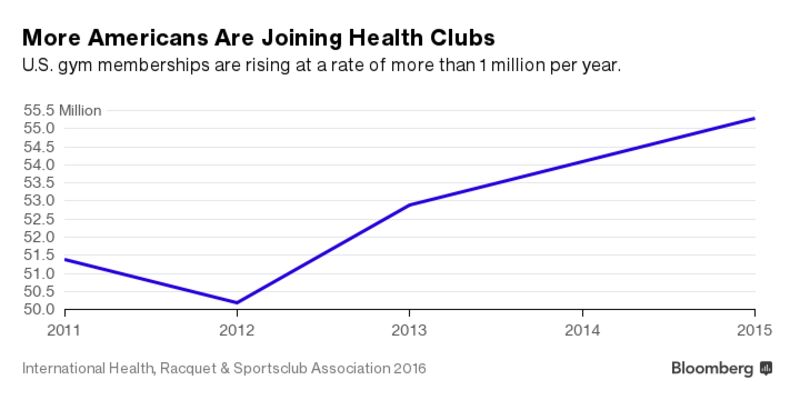 Fitness was already a cutthroat industry. Clubs face a constant churn of members. About 30 percent of the people who signed up for clubs in 2014 were gone a year later, Ihrsa estimates.
"There are more former club members than there are present ones," Stephen Tharrett, co-founder and principal of the consulting firm ClubIntel, said.
January is the most popular month to join a gym. It's also when many clubs raise their dues, a process that risks prompting members to leave. "It's always scary when you raise dues, because you don't know how many members you're going to lose," said Bill McBride, a fitness club consultant and chief executive officer and co-founder of Active Wellness LLC, which runs more than 60 fitness facilities across the U.S.
Many clubs have no choice. Unless they constantly renovate and reinvent themselves, older clubs won't attract new members to replace those who are leaving, McBride said. Many health clubs are also facing higher rents and rising labor costs thanks to increases in the minimum wage in many parts of the country. The arrival of new studios and budget clubs makes the competition even more intense.
"The number of health club members has been increasing," McBride said, "but the number of clubs has been increasing exponentially more."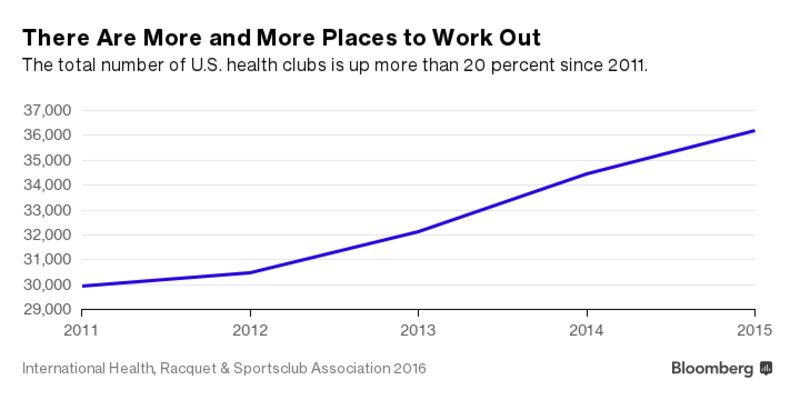 Shortly before Christmas, DavidBartonGym declared bankruptcy and abruptly shut down eight high-end clubs in New York, Boston, Miami, Chicago, and outside Seattle. The chain blamed "severe competitive pressures, particularly in New York." 1 DavidBartonGym locations in Los Angeles, Las Vegas, and Honolulu are owned by a separate company and remain open.
Expect more clubs to close and consolidate, said ClubIntel's Tharrett. Even studio clubs could feel squeezed. In some cities, you see "four or five different studios on the same block," he said. "Something has to give."
Studios have plenty of advantages. They're designed to be social. Customers keep coming back because of personal relationships with instructors and other clients. Serious exercisers need to be constantly challenged, and personal attention makes that easier.
Studios can also make extra money off customers by selling merchandise, like T-shirts and hats, or energy snacks and drinks. With "highly specialized, tribal experiences," Tharrett said, a studio "creates a sense of belonging."
Still, fashions change. If customers get bored of cycling or rock climbing, there's no membership contract to keep them from trying something new. A notorious example is the fitness chain Curves, which rapidly opened, and then shut, thousands of locations across the U.S.
In fitness studios, "the barriers to entry might be very low, but the barriers to success are very high," said IBISWorld analyst Andrew Alvarez. Plus, "there's only so much money you can extract out of your core demographic before your revenue flatlines."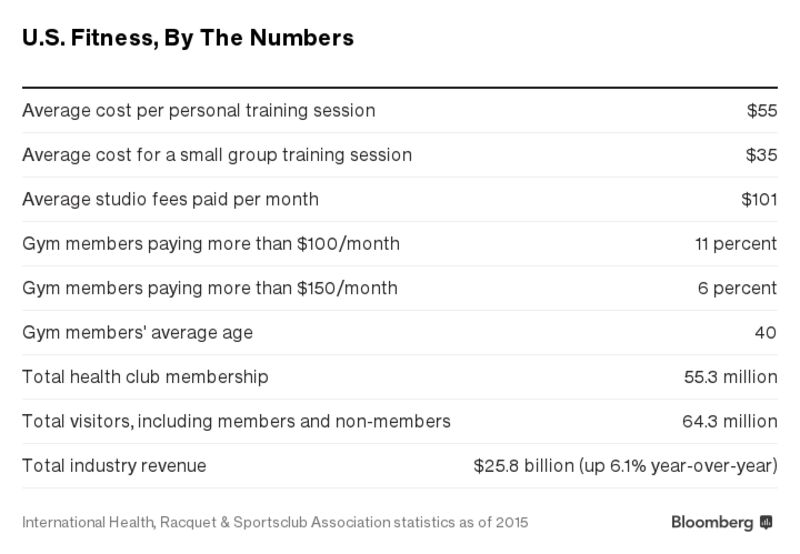 So far, there's little evidence that members of studios and luxury gyms are tightening their belts. Overall, Ihrsa estimates the health club industry's revenues jumped 6.1 percent in 2015, to $25.8 billion. Veterans of the fitness industry sound surprised that gyms' youngest clients are acting less price-sensitive than older generations. Why are millennials willing to pay hundreds of dollars a month?
"I have no idea," except that "they've made fitness a priority," said Rick Caro, a consultant at Management Vision and former club owner with 43 years of experience.
Dorsainvil has a theory. "Our generation is a generation of multitaskers," she said. "It's only when we're working out that we really get to concentrate on one thing."
Debbie Freeman, a 35-year-old financial planner in Denver, agrees. "I use exercise as a way to pull myself away from the day-to-day grind," said the mother of a 4-year-old and 6-year-old. "It's the one time of the day when I can do something by myself and for myself."
Freeman spends significantly less than Dorsainvil on exercise. She's not interested in crowding into a group studio or meeting up in the park for a boot camp. Instead, she mostly runs outside. Her only expenses are a $20-a-month gym and the occasional entry fee for a half marathon or 10K race.
Are people who spend thousands of dollars on fitness wasting their money? Neither of the two financial planners thinks so.
If you're meeting your retirement and other savings goals, "who am I to say you're spending too much?" said Dorsainvil, who started her own planning firm, Your Greatest Contribution, about a year ago. "You only get one body."
Freeman, the director of tax and financial planning at Peak Financial Advisors, has a friend who pays more than $200 a month at a CrossFit gym. "It keeps her accountable," she said. "The money is a motivator for her to go do it."
Whatever works for you, Freeman said. "The shape you're in from your 30s to 50s is going to affect the shape you're in in your 70s and 80s." If clients need to cut their budgets, she advises them to start with alcohol or restaurants or cable.
Exercise? "That's one of the last places I'm going to tell them to slice," she said
The above article can be found at Bloomberg